Concrete Services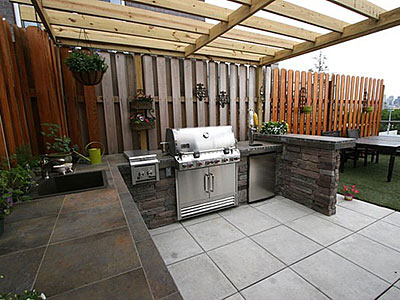 Whatever your concrete or masonry requirements in the Los Angeles region may be, you can count on Westcoast Concrete Services. Our company serves commercial and residential customers in the area. Our services include Outdoor Kitchens & BBQs; Pavers, Custom Masonry, Ceramic Tile Installations, Retaining Walls; Concrete Block Structures, Concrete Work; Demolition & Hauling, and more. We are successful because we use expert masons and accurate estimators who keep us on schedule and within budget. We specialize in offering high-quality masonry work utilizing natural stone, brick, unique retaining wall systems, and paver stones in our projects. As a result of their adaptability and aesthetic appeal, masonry and stone are quickly becoming the materials of choice for landscape and yard construction. When we handle the job, you can be sure that the final project will be above your expectations. We'll be respectful of the property and careful with your money. We have years of expertise designing patio and backyard areas so we can create a plan just for you.


Ceramic Tile
Indoors or out, ceramic tile flooring is a popular option for either homes or businesses. Ceramic tile flooring is durable since it can last long without showing any signs of wear. Tiles made of ceramic are more resistant to wear and high foot traffic than any other flooring. Additionally, ceramic tiles will not contract or expand with time making them suitable for outdoor spaces. With their high quality and extended lifespan, ceramic tiles may be a great financial investment. Because of their adaptability, ceramic tiles are often used in home renovation projects. In other words, we are the go-to pros when it comes to ceramic tiles for patios, decks, outdoor kitchens, and more. You will have access to a wide variety of options for your house or workplace. Thanks to our ceramic tile installation expertise, you can be confident that your outdoor space will be durable and aesthetically appealing. Read More About Ceramic Tile >>


Pavers
Homeowners who spend a lot of time outdoors want to improve those spaces. This includes the pool area, deck, patio, and driveway. Whether you're looking to add a patio, pool, or walkway to your home or upgrade an existing one, we can help you design and construct an attractive solution that will add value to your property and increase your home's beauty and functionality. The key to designing beautiful, functional, and long-lasting outdoor spaces is to choose high-quality products like pavers that can withstand the effects of climate change. If you're interested in having pavers installed, we have the expertise to make sure they'll last through normal wear and use. Depending on your taste, we may lay brick, natural stone, or concrete pavers. As a result of our close relationships with our suppliers, we can provide the most reasonable prices on the market to our customers. Read More About Pavers >>


Custom Masonry
Custom masonry and other forms of hardscaping are essential additions to any outdoor space. With the hardscaping complete, the project's first stage will be complete. We are familiar with the top-tier resources and the most efficient strategies for putting them to use. Every one of our services is tailored to the needs of our customers. Masonry projects are our specialties, and for years, customers in the area have come to rely on us exclusively. You can trust us with any task, whether big or small. Our expertise as masons allows us to create and install masonry projects of any size or configuration, and we always put our customers' wants and requirements first. We employ only the finest materials and methods to build masonry elements that are as aesthetically pleasing as they are long-lasting. Our custom masonry services include designing and constructing walls, stairs, fireplaces, and fountains of various shapes and sizes. Read More About Custom Masonry >>


Anchor Retaining Walls
We exclusively use high-quality materials from trusted manufacturers like Anchor Wall Systems for our retaining walls. The requirements of our customers will serve as the basis for developing these features. We can apply the traditional aesthetic of Anchor's retaining wall systems to any garden or landscape wall. These stone blocks, including the subsurface area but omitting the cap, are the best option for retaining walls due to their adaptability, ease of use, and caps that fit perfectly with the system. Because of their adaptability, Anchor wall systems are a great addition to any landscape. The retaining wall and its corresponding pin structure make assembly a breeze. We can cut these special blocks in half to make a two-sided block for a freestanding wall system. Our installations are always performed per manufacturer specifications and accepted industry norms. Read More About Anchor Retaining Walls >>


Concrete Block
We can design and build the most original, creative, visually pleasing, and practical outdoor areas to complement your stunning house. Various resources are used in this effort. However, concrete blocks have recently become the most often used material. As a result of their superior strength, durability, and aesthetic appeal, they are often utilized in building projects of all types. Because of their adaptability, concrete blocks are used for various features. These include outdoor kitchens, boundary walls, retaining walls, sitting walls, and fire features. As was previously mentioned, constructing using concrete blocks allows for a wide range of design options. We can lay out your outdoor spaces just as you want, including creating enough storage and working space for all the equipment and furnishings you could ever need. It is also simple to use, so you may finish your job quickly and with no effort. Read More About Concrete Block >>


Stamped Concrete
Present-day outdoor design is all about balancing aesthetics and practicality. When considering these factors, it's clear that stamped concrete is a great choice and works well for any outdoor project. Among the many concrete features, we specialize in are walks, patios, decks, driveways, and paths that are stamped. Having us take care of this task guarantees that it will be completed on time, using only the finest materials, and to the highest standards of quality possible. We will fine-tune all our recommendations to meet your specific needs. You can trust that the concrete work we do for you will last and look great since we only use the best materials available. We've found that our mix's shrinkage, cracking, and pop-outs are minimal. Our finishers will have to put in more time and effort to get the desired look while working with this material. Read More About Stamped Concrete >>


Concrete Work
Almost every kind of landscaping makes heavy use of concrete. It's employed in many hardscaping projects and serves as a sturdy foundation for the numerous "living" elements we will ultimately add to the landscape. We can do all phases of concrete work, including demolition, replacement, and installation. Concrete slabs, patios, decks, driveways, walkways, and paths are all things we can help you with. We design and construct concrete garden stairs, create fire features, and more. We recognize that all these concrete constructions will be the basis of the rest of the elements on your property, and we utilize the finest materials for the job. Our crew comprises skilled professionals who work meticulously to provide long-lasting concrete installation solutions. The craftsmanship will be best in class, and we promise the highest finishing and details. Read More About Concrete Work >>


Outdoor Kitchens & BBQ's
We have helped clients across the area bring their dreams to life by designing and building stunning outdoor kitchens to enjoy the growing popularity of outdoor living. Outdoor kitchens come with a variety of customizable options. We can build you a kitchen with all the bells and whistles if that's what you're after; tell us what you need, and we'll make it happen, right down to the refrigerator, bar, and other appliances. Conversely, if you like a minimalist kitchen, we can build a basic grill and BBQ setup under a single counter. We can create a beautiful design for a freestanding counter, complete with the hardware you want. The material used for the countertops is also crucial. Because of the increased exposure to the elements, choosing materials that can survive the effects of a changing climate is essential. Read More About Outdoor Kitchens & BBQ's >>


Demolition & Hauling
We specialize in demolitions on commercial and residential properties. Reach out to us and briefly describe the work you need to be done. You may also give us pictures of the structure you wish us to knock down. We'll investigate, and if it's feasible, we'll let you know. Most people don't realize how much time and effort goes into planning a demolition and procuring the necessary equipment. Because of the inherent danger in every demolition project, contractors must be cautious and accurate no matter how large or small the structure is. We have cleared a lot of ground by demolishing old buildings that were unsafe or in the way. Our customers trust us to do the work well and keep everyone on the premises out of harm's way. Our staff is knowledgeable and has the background to do various tasks. Read More About Demolition & Hauling >>


Block Walls
We can handle residential or commercial block wall installation due to our extensive knowledge, experience, and skill. Our skilled block wall installers construct the desired structures following the detailed blueprints supplied by our expert hardscape designers. We check to see that they meet all your specifications. Every job is completed to industry standards, and our customers know they are getting a fair return on their investment because of our extensive expertise, insurance, and permits. Though they seem simple from the outside, block walls need meticulous planning and expert construction. Our team has successfully installed several retaining walls of all sizes and types throughout the years. Because we tailor our services to your specific needs, the final product will perfectly complement your garden's style. These days, you may choose from a variety of block wall options. Nonetheless, our experts will guide your choices on the materials to use, and we only suggest high-quality products from well-known brands. Read More About Block Walls >>


Concrete Driveways
The versatility, dependability, and low cost of concrete make it the material of choice for many driveways and other building projects. It is also fireproof and has a high thermal mass. We come in because even though it's tough, only top-notch materials and expert installation can guarantee surfaces endure a long time. We are a one-stop shop for driveway construction, resurfacing, and repairs for residential and commercial customers in the area, and we work on all types of concrete driveways. High-quality materials, cutting-edge technology, and meticulous project management all contribute to the value we provide for our customers. We can help you get there with our concrete services if you want a well-designed, well-built driveway. Our crew always follows best practices, takes safety precautions, and never cuts corners on quality. With our help, you can get back to utilizing your driveway as soon as possible since we operate according to your schedule. Read More About Concrete Driveways >>


Flagstone Patios & Driveways
Adding a patio to your home is a smart renovation project. It's an affordable way to make your house look bigger by merging interior and outdoor areas. We advise customers to consider installing flagstone patios because of the durability and resistance to weathering that the material provides for the construction. The look of this natural stone is rough and earthy. It's elegant to coordinate with both contemporary and traditional home decor. We can set down these stones in a geometric or repetitive pattern if you'd like your patio and driveway to have a more refined appearance. Stones with an irregular shape are perfect for a laid-back, casual look. We can also use flagstone to make beautiful pathways through your garden or yard. Our forte is in customizing flagstone driveway and patio solutions to each client's requirements. With us, you can get a high-quality, affordable flagstone patio or driveway, together with superior customer service and innovative solutions. Read More About Flagstone Patios & Driveways >>


Paver Driveways, Patios & Sidewalks
Paver walkways are a great approach to enhancing the visual appeal of your environment and adding a personal touch to your outdoor areas. Your property's attractiveness and the landscape's functionality will benefit from the addition of well-crafted walkways. Whatever your preferred design aesthetic, we can assist you in constructing pathways that meet your needs while also looking great. We design and build paver pathways and paver driveways and patios, using complementary materials for a cohesive appearance. We are experts in laying brick, concrete, and natural stone pavers for driveways, patios, and walkways of various shapes and sizes. Your walkways will look fantastic and endure for years since we only use the best materials. There is a wide variety of pavers to choose from. With our help, you can have attractive and long-lasting outdoor spaces on your property, including patios, driveways, and walkways built using different types of pavers. Read More About Paver Driveways, Patios & Sidewalks >>


Vinyl Fencing
Our knowledgeable crew can help you refine an existing fence installation or create brand-new vinyl fencing from zero. Our vinyl fences stand out from the competition due to their low price, low maintenance requirements, extended lifespan, attractive design, ease of installation, speedy shipment, and many customization choices. There is a large selection of distinctive vinyl-slatted fences available here. There has been a growth in the usage of vinyl fences in recent years to maintain the privacy of properties and to keep children and pets safe. Contrary to popular belief, vinyl fences come in many forms and colors, so you may choose one that works for you. Our company offers comprehensive service warranties on all vinyl fence installations for local companies and homeowners. We can also replace existing wooden or aluminum fences on your property with vinyl fencing. Our company uses the proven and time-tested vinyl fencing products in every project. Read More About Vinyl Fencing >>

We use the best quality materials and methods in our work, ensuring high quality and efficient and timely completion. Our company focuses on customization, so you get the solutions you need. Our services are comprehensive, so our customers can be sure that they will receive a good deal from us regardless of the size or complexity of their projects. We have the workforce and equipment to handle even the most challenging projects. Hardscaping is more permanent than living elements, which may be replaced or updated every few years. As part of our dedication to providing excellent service, we go to great lengths to ensure that the hardscaping features we place on our customers' properties are sturdy, require little maintenance, and will endure for many years. For more details about Anchor Wall installation, please call West Coast Concrete Services at 310-466-4456. You can also send us your queries and service requests via this Online Form.